Duncan Roofs is a roofing subcontractor employing dozens of full-time, part-time, and contract roofers. Their manual scheduling process failed to keep up with their growth amid the vagaries of the roofing business. Due to the seasonal nature of the job and the constant variations in the number of roofers working at any given time, Duncan Roofs had difficulties confirming that each site had the correct number of employees. They needed a scheduling system that could be accessed from anywhere and could easily move workers from task to task and from site to site, providing a real time view of their business.
Inntec created an online application that allows Duncan Roofs supervisors to use their mobile PDAs to manipulate the employee schedule in real-time.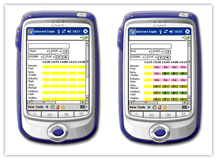 The home office can schedule employees at any time throughout the day.
Supervisors can check and see who is supposed to be working, and at which site.
Tasks can be assigned to each employee.
Staff can indicate when an employee is having downtime or is unable to work because of the weather.
The home office can use this information to generate billable and payable hours.
Furthermore, because of the unique challenge presented in using a wireless handheld device, this application was optimized to use low bandwidth ASP.NET pages and DHTML to manipulate the schedule without having to constantly send data back to the home office.