Interstate is a national 3rd party logistics (3PL) company that moves live goods from growers around the nation to the big box retailers like Home Depot and Wal-Mart. Inntec created a sophisticated Internet-based application that routes and tracks Interstate's deliveries. Using this application: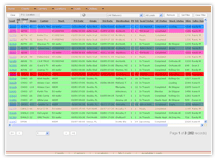 Origin and destination customers can access real time delivery statuses online.
Carriers can see posted loads on the Web and accept or decline ones that have been tendered to them.
Interstate can maintain an extensive carrier contact base, allowing them to handle loads that either the shipper or other 3PLs can't handle.
Truck drivers can call in to an automated system and update their checkpoint status, saving dispatch agents 10-20 hours a day in determining deliver statuses.
Interstate has grown from a $3 million to a $30 million company over the last 3 years using our software. Inntec and Interstate are now marketing the software to other logistic companies.